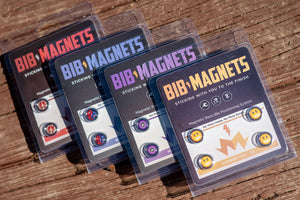 Loving Bib Magnets
"Awesome product and amazing customer service.
I highly recommend them."


Brilliant Idea!
"This is brilliant.
I was literally just griping on Sunday that I hate putting holes in my shirt."
Bib Magnets Don't Move
"Worked like a charm, never moved."
One Set is NOT Enough!
"I love my #bibmagnets my bib didn't move one millimeter through the race and they're so colorful.
I can't wait to get more!! Definitely recommend these instead of using safety pins!"
Just Awesome
"the @bibmagnets were awesome!"


The Runner's Problem
Safety Pins have been the industry standard for decades despite widespread complaints. Pins are hard to adjust, can be annoying during races, and cause damage to expensive clothing.
LEARN MORE